Ellen, We Got You.
Ellen Degeneres has sadly, had us all fooled. Behind the scenes of what was seen as a cheerful talk show, Ellen has been making her employees ugly cry in every interaction she had with them. An anonymous former employee quotes: "Every day she picks someone different to really hate. It's not your fault, just suck it up for the day and she'll be mean to someone else the next day. They didn't believe it but it ended up being entirely true."
It all started in March of 2020 when "podcaster" Kevin Porter took to Twitter asking users to respond with the most insane stories people had about Ellen DeGeneres, and Twitter did not fail to entertain under the comments. One Twitter user, Benjamin Siemon, says "she has a 'sensitive nose,' so everyone must chew gum from a bowl outside her office before talking to her and if she thinks you smell that day you must go home and shower."
And another, because they're just so entertaining… "She cares about animals which is good but so sensitive for example if someone tried to show her a funny viral video and way in the distance a barely audible dog is barking she'll scream at you and say "CAN'T YOU HEAR THAT ANIMAL IS IN DISTRESS?!! WHY DID YOU SHOW ME THIS!?"
After multiple women came forward about the sexual misconduct they faced at the hands of producers and writers of The Ellen Show, Ellen issued the following apology, however she does not address the claims of her horrible attitude. "My name is on the show and everything we do and I take responsibility for that. Alongside Warner Bros., we immediately began an internal investigation and we are taking steps, together, to correct the issues. As we've grown exponentially, I've not been able to stay on top of everything and relied on others to do their jobs as they knew I'd want them done. Clearly some didn't. That will now change and I'm committed to ensuring this does not happen again," DeGeneres said in the internal memo obtained by Variety.
Nearly a dozen former employees accused head writer and executive producer Kevin Leman of sexual misconduct, including groping, making sexually explicit comments and behaving inappropriately at a company party, while Leman denied "any kind of sexual impropriety." Former employees also accused executive producer Ed Glavin of "being handsy with women" and leading the team by creating a culture of fear and intimidation, though Glavin did not comment on the allegations.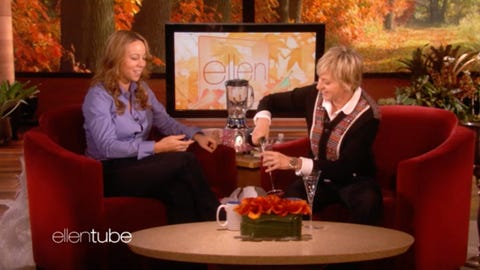 Singer Mariah Carey recently came forward about her 2008 appearance on The Ellen Show in which she stated, "I was extremely uncomfortable with that moment is all I can say. And I really have had a hard time grappling with the aftermath." During the interview, DeGeneres, asked Carey to confirm or deny tabloid rumors that she and then-husband Nick Cannon were expecting. While Carey laughed off the question and attempted to change the subject, DeGeneres did not back down, and offered the Grammy winner a glass of champagne to prove if she was pregnant. "This is peer pressure," Carey said as the audience laughed. When Carey faked taking a sip, DeGeneres shouted, "You're pregnant!"
In conclusion, Ellen we got you and please stop making your employees cry.
If Ellen ever finds this article and fights me, we can imagine that this is what that would look like.